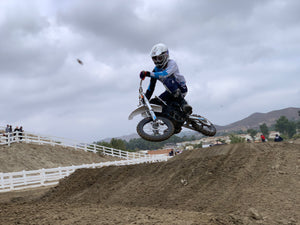 EMX 14 Takes on the Havoc Co. Pitbike Championships
This past weekend I had the chance to race test the Electro & Co. EMX 14 pitbike, and overall the initial outing was a huge success!  We went into the race without any major expectations (despite some friendly banter), knowing full well that the 110 mod pro class was going to be full of top talent from the area (think current SX racer type talent, well beyond my skill level. . .), but hoping to at least show that the bike was competitive.  While the pace during the mains did not disappoint, we proved that the bike was capable and turned a lot of heads in the process.
The calm before the storm
As with any initial test, the day did present some challenges.  A small issue with the controller (which has since been replaced) caused some strange behavior when landing from jumps, so an adjustment in riding style was needed to compensate, however this was more of an annoyance than a serious problem.  Going into the race with almost no test time on the bike was a little bit concerning, but surprisingly the EMX was very easy to adapt to and the lack of gearbox and clutch really let me focus on the task at hand of getting around the track as quickly as possible.  The Havoc crew did an awesome job of setting up a fast and fun racetrack, with some optional jumps that were definitely big enough to scare me on a mini bike!
Either full send over the triple or no send at all, there is no in between. . .
In the main event I got off to a good start, coming out of the first turn in 3rd place and holding that position for about a lap and a half.  Unfortunately an unexpected slide on the hard pack resulted in the twisting of an already questionable ankle, and by the time I assessed the damage and regrouped the gap to the main pack was already too big to overcome in such a short race.  The pace was intense, and at the speeds we were running it was only a matter of time before someone made a mistake. . . unfortunately that happened to be me.  Regardless of final result, we still proved that the bike was more than capable of running near the front of the most competitive class of the day, and quite a few eyes were opened to the potential that electric has. 
---